Our homes are an extension of our own style and personality, but certain elements have proven to stand the test of time better than others. Plantation shutters can successfully change the look and feel of any space while remaining timeless with their aesthetic appeal. Tuiss Blinds Online offer a wide range of bespoke, made-to-measure plantation shutters that are also designed for easy DIY installation. From solid timber shutters and advanced polymer shutters, to flatpack Kit shutters and Easi-Fit shutters that are even quicker to install than the others, you'll find the perfect shutter solution for your home.
Style that Endures
Plantation shutters have the ability to create an atmosphere of sophistication and charm. This makes them a popular choice when deciding on window furnishings. The clean lines, adjustable louvres, and versatility in matching various interior styles makes them a valuable addition to any room. Whether your chosen aesthetic style leans towards coastal, traditional, modern, or eclectic, shutters are able to be incorporated seamlessly.
Timeless Elegance
One of the remarkable features of plantation shutters is their timeless appeal. Unlike interior design choices that are 'on-trend' and can become quickly outdated, shutters have been adorning windows for centuries. Their classic aesthetic ensures that your investment in them will pay off for years to come. As your home evolves, these shutters will remain a constant source of elegance and refinement.
Practicality in Everyday Life
Beyond their aesthetic charm, shutters are highly practical. They provide precise control over the amount of natural light entering a room, ensuring optimal comfort and energy efficiency. You can effortlessly adjust the louvres to create the desired ambiance, whether it's a sunny morning or a cosy evening.
Functionality at its Best
Tuiss Blinds Online understands the importance of easy installation and functionality. As all of the shutters available from Tuiss are designed with DIY enthusiasts in mind, the installation process is hassle-free. Whether you're looking at the traditional shutters with a full frame, or the Easi-Fit Express frameless shutters that are even faster to install, each product is completely made-to-measure and comes with step-by-step instructions. Rest assured that you can have your shutters up and looking stunning in no time. The DIY approach not only saves you on installation costs, but also provides a sense of accomplishment as your transform your living spaces.
The Easi-Fit Express shutters offer a faster installation and a lower investment, as there is no external frame required to assemble. They're also dispatched in a fraction of the time! The design features slimline pivot hinges and magnetic plates which can be easily installed in a recess. The panels are then simply attached! With the exception of the Kit shutters, the shutter panels on all of the Tuiss shutters are shipped completely assembled. So, don't be daunted thinking you need to assemble all the individual slats! However, if you want to save even more money and don't mind the extra bit of assembly work, you might be keen to check out our Express Kit Shutter Blinds.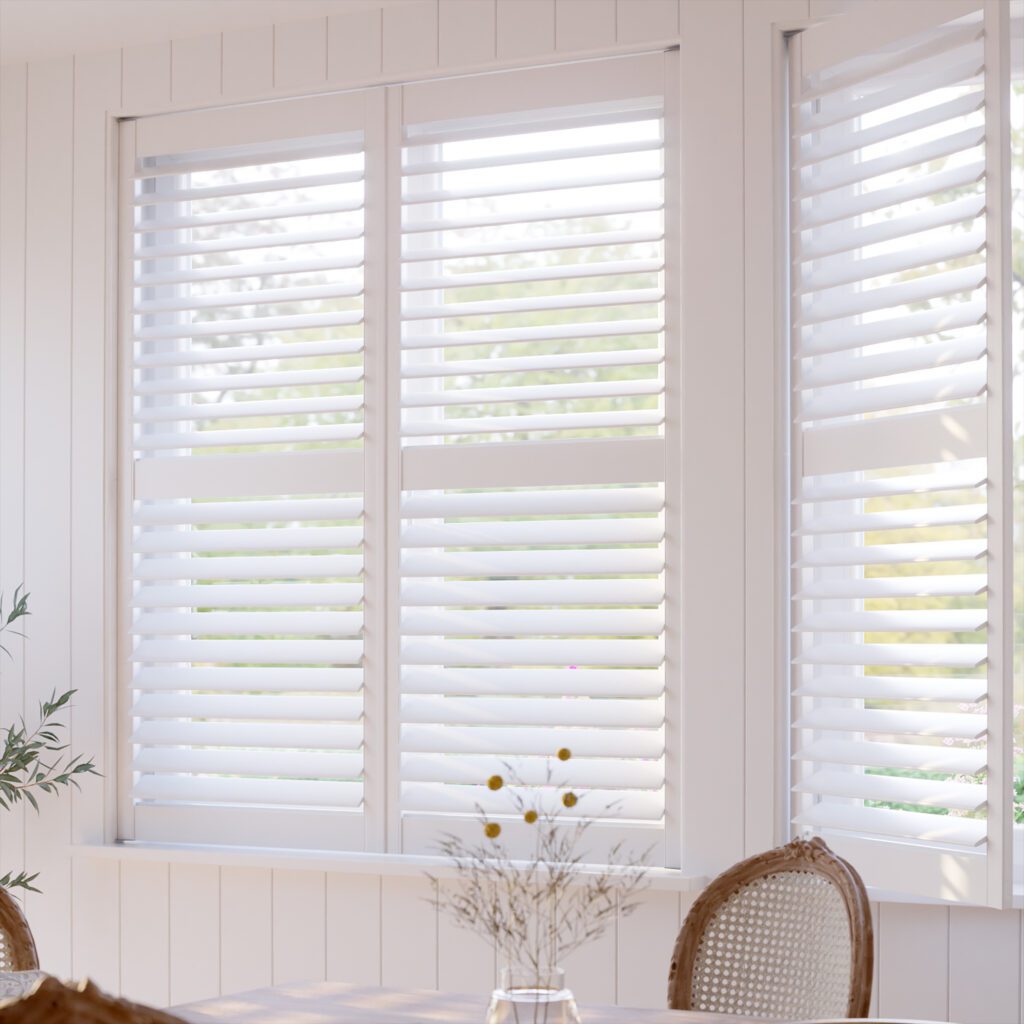 Customised to Fit Your Space
When ordering shutters from Tuiss, you are ordering a product that is more than just made to measure. You're also ordering something made to fit your unique style and space. There are a wide range of materials, colours and finishes to match your interior design vision. Whether you prefer the warm, inviting look of natural wooden shutters, or the sleek elegance of an advanced polymer shutter, Tuiss has options to suit your needs.
Energy Efficiency and Savings
Plantation shutters are an unsung hero when it comes to energy efficiency. Many people don't realise that solid timber shutters act as an extra layer of insulation. This helps to maintain a comfortable interior temperature throughout the year. By regulating heat and light, they reduce the need for excessive heating or cooling, leading to potential savings on energy bills. This practical feature ensures that your investment in shutters pays off not only in style, but also in long-term cost savings.
Low Maintenance Beauty
Maintaining the beauty of shutters is a breeze. Their sturdy construction and easy-to-clean surfaces make them an ideal choice for busy households. A quick wipe with a damp cloth or a gentle vacuuming session is all it takes to keep them looking pristine.
In the world of interior design, few elements strike the balance of style and functionality as perfectly as plantation shutters. They are more than just a window treatment, they are an investment in enduring beauty and comfort of your living spaces. Embrace the classic charm of plantation shutters and elevate your home's design to new heights with Tuiss Blinds Online.
Explore the range of shutters on our website today: www.blindsonline.com.au
Tuiss. Blinds online, made simple.